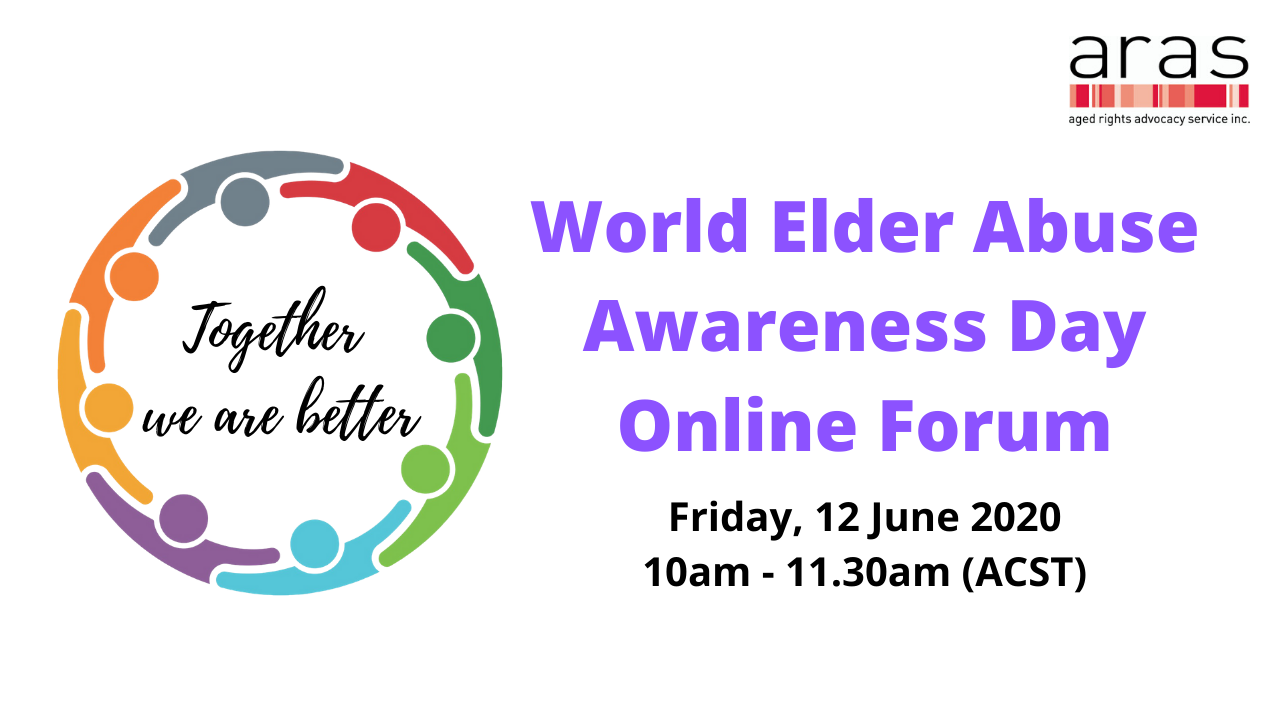 About this event
In many parts of the world, in both developed and developing countries, elder abuse is both underestimated and ignored by societies.
According to the World Health Organization, around 1 in 6 people 60 years and older experienced some form of abuse in community settings during the past year. Only 1 in 24 cases of elder abuse is reported, in part, because older people are often afraid to report instances of abuse to family, friends, or the authorities. There is a likelihood that COVID-19 may have increased the gap, with older people isolating at home with family or carers, increasing the exposure to abuse.
The purpose of World Elder Abuse Awareness Day Forum on June 12 is to encourage communities to recognise and respond to the issues concerning abuse of older people and for society to create policies that protect the rights of older people. Older people are valuable and productive citizens and are entitled to be treated with dignity and respect.
We can all do our part to improve the overall wellbeing of older Australians, particularly in our current COVID-19 environment. The support of family, friends and community services can assist an older person to retain control of their life, enhance their wellbeing and help them to maintain their independence, no matter where they live. Through working together, we can also ensure older people are aware of the supports available and how to access them.
Together we are better!
Together we are better in supporting older Australians who are experiencing abuse
Together we are better in safeguarding older Australians from abuse
Together we are better in providing a supportive environment so that Australians have longer, healthier and more productive lives
Together we are better in developing new models of care to keep older Australians at the centre of innovation.
Panellists:
Hon Dr Kay Patterson AO, Age Discrimination Commissioner Australian Human Rights Commission
Janet Anderson, Aged Care Quality and Safety Commissioner, Aged Care Quality and Safety Commission
Carolanne Barkla, Chief Executive, Aged Rights Advocacy Service
Geoff Rowe, Chief Executive, Aged and Disability Advocacy Australia
Cassie Mason, Director, Office for Ageing Well, SA Health
The WEAAD online forum focussed on how government agencies, service providers, advocacy groups and the community can all work together to deliver quality care and support services to older people with compassion, without compromising their rights, to ensure their ongoing wellbeing.
Abuse of older people is a complex, global health and social issue, which needs to be addressed and prevented. ARAS is encouraging communities to stand up speak out and to share messages on its Facebook page to mark WEAAD 2020 whether it is wearing a purple ribbon or hosting a virtual morning tea, it is important that we all know and understand the impact of abuse of older people. Every one of us deserves to lead a safe and happy life, free from abuse, as we age.
Contact
Aged Rights Advocacy Service Inc.